Meetings, meetings, meetings…and more meetings. My head hurts. The river must be chuckling. The "regulate the river" crowd just can't get it together. Money, politics, greed, fear, personal agenda, landowner rights, landowner wrongs, more, more, more. And if you hit a snag, hold more meetings, more public comment…have a meeting to discuss the last meeting and plan for the next meeting. Nobody wants to be the bad guy. Nobody wants to take a stand. Nobody wants to lose their job or look like a dickhead. So nothing gets done…and the river keeps flowing…and the crowds keep coming…and the subdivisions keep growing.
I wouldn't want to be a trout.
Officials to hold public hearing on repeal of Madison River rules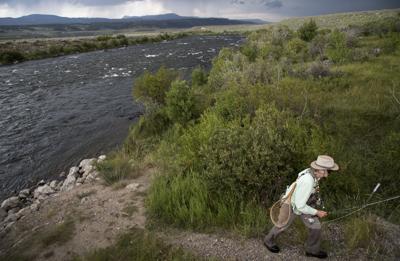 Montana officials are planning a virtual public hearing about a proposal to repeal two administrative rules affecting recreation along the Madison River.
The Montana Fish and Wildlife Commission is mulling whether to repeal two administrative rules, which impact "walk-wade" and "rest-rotation" regulations along portions of the upper Madison River, one of the state's most heavily fished rivers.
Walk-wade rules determine when and where people can fish from boats along stretches of the river. Rest-rotation rules determine when and where outfitters and guides can conduct business along stretches of the river.
Commissioners are scheduled to hold the hearing on repealing the two rules at 1 p.m. on Wednesday, Dec. 15. Public comment on the proposal lasts through Dec. 17. The rules are poised to go into effect as written on Jan. 1.
Montana's 2021 fishing regulations prohibit anglers from fishing from a boat or vessel between the outlet of Quake Lake and Lyons Bridge. That would change under a rule that's set to go into effect on Jan. 1.
The new rule — part of the package of rules approved in December 2020 — permits fishing from a boat from Raynolds' Pass Fishing Access Site to Lyons Bridge Fishing Access Site on weekends between the dates of June 15 and Sept. 30.
Commissioners voted to advance the repeal of that rule and a "rest-rotation" rule that restricts outfitters and guides from conducting business between June 15 and Sept. 30 on certain portions of the river.
If the rest-rotation rule goes into effect in 2022, outfitters and guides won't be allowed to conduct business between Lyons Bridge and Palisades Day Use Area on Sundays. They won't be allowed to conduct business on the stretch between Raynolds Pass and Lyons Bridge on Saturdays.
Members of the Madison River work group — a hodgepodge of area outfitters, business owners and recreation and natural resource experts — recommended that the commission strike down the rules, pointing to a lack of general support for either of them.
KC Walsh, the commissioner who chairs the work group, said in October that the boat launch site at Raynolds' Pass isn't set up to accommodate the amount of traffic it will see if the walk-wade and rest-rotation rules take effect as outlined.
Hugh Zackheim of Helena and Mike Bias of the Fishing Outfitters Association of Montana both said they support repealing the two administrative rules at an October meeting.