Cheating. It's all around us…a sad, seedy side of daily life. We see it all the time…in politics, sports, relationships…and now in tournament walleye fishing. Cheating is a strange, demonic sickness that creeps into human beings…turning them into fakers, liars, hypocrites. I have seen it first-hand…many times. I have seen golfers who normally appear honest and upstanding, cheat on their scores, fudge on their handicaps, fluff their ball in the rough. A few years ago, some guys from Alabama were parading around the U.S. outdoor and hunting shows… showing videos of huge bull elk they were killing with bow and arrow. They were making big bucks selling their videos, archery equipment and apparel. Then at one show, someone noticed a burn area of lodgepole pine in the background of a video. Turns out these guys were hunting in Yellowstone Park!
I have always said big antlers do strange things to grown men.
How about professional sports? The so-called world's greatest cyclist, Lance Armstrong…caught cheating.
The mighty home-run hitters in baseball, Barry Bonds, Mark McGwire. Alex Rodriguez…caught cheating.
The president of the United States, Bill Clinton…caught cheating.
You think Wall Street doesn't cheat? Ask the Bernie Madoff investors.
Cheating is everywhere. When I used to caddy, I overheard a well-known player once tell his partner, "It ain't cheating unless you get caught."
Life goes on.
Newspaper story below from Sharon (Pa.) Herald.
Hermitage angler at center of fishing cheating scandal
By ERIC POOLE Herald Editor
18 hrs ago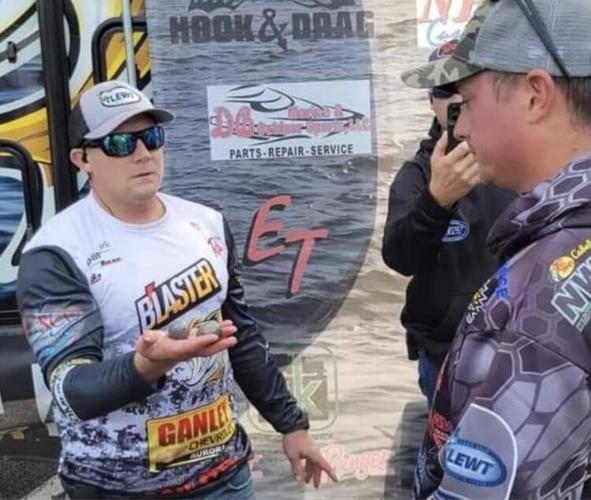 In an image posted on Facebook, a Lake Erie Walleye Trail tournament official, left, holds out two weights he said were cut out of a fish caught during the event by the team of Hermitage resident Chase Cominsky and Jake Runyon, of Cleveland. Runyon is on the right.
DAVE LESKA | Yough Lake News
In a Facebook image, Hermitage resident Chase Cominsky, left, and Jake Runyan hold up their haul Friday after the Lake Erie Walleye Trail championship event. Moments later, the two men were accused of packing their fish with weights.
DAVE LESKA | Yough Lake News
CLEVELAND — In a scandal rocking the competitive fishing world, a Hermitage-based angler and his partner are accused of illegally putting weights in the fish they caught Friday during the Lake Erie Walleye Trail Championship event.
Multiple media outlets, including the Toledo (Ohio) Blade, have reported that Hermitage resident Chase Cominsky and Jake Runyon, of Cleveland, had been the event's apparent winners until a tournament official cut open one of the fish they caught, as seen in a YouTube video (WARNING: The video contains explicit language), and produced weights, which would have increased the poundage of their catch.
Heading into the season-culminating championship event, Cominsky and Runyon had led the season standings for team of the year.
Lake Erie Walleye Trail director Jason Fischer posted a Facebook statement through the circuit's page apologizing to fans and competitors of the event.
"Disgusted guys and gals, I'm sorry for letting you down for so long and I'm glad I caught cheating taking place in YOUR LEWT at the same time," Fischer wrote. "I hope you know now that when I say 'you built this LEWT and I will defend its integrity at all costs,' I mean it. You all deserve the best."
Fischer also congratulated the teams of Steve Tsczyko and Christopher for winning the event and team of year winners Steve Hendricks and Brian Ulmer in the statement.
Observers and officials had suspected Cominsky and Runyon as long ago as last year — the YouTube video was titled, in part, "Lake Erie Walleye Trail Cheater Chase Cominsky and Jake Runyan finally got caught."
In 2021, the Toledo Blade reported that Cominsky and Runyan were disqualified from the Fall Brawl fishing event, after they had apparently won, because one of them had failed a polygraph test.
The Fall Brawl offered more than $500,000 in cash and prizes, according to the 2021 Blade article. Runyon told the Blade that both he and Cominsky had passed a subsequent polygraph test following another tournament.