"We could totally eliminate all of the commercial usage on the river, and in one year, that would more than backfill by noncommercial use," FWP Commisioner Rich Stuker.
My sentiments exactly…thank you Mr. Stuker. This entire exercise is a circle jerk of futility if it is meant to ease crowding on the Madison. One more time: LIMITING COMMERCIAL USE IS NOT GOING TO EASE CROWDING. Look around…look at real estate sales…look at campgrounds…look at parking. Montana is being invaded. We are now known as the Covid Safe Haven Escape State. Even FWP Commissioners can read license plates…California, Washington, Oregon, Colorado, Utah, Texas, New York…even Florida plates are everywhere. These aren't tourists, THEY ARE MOVING HERE…THEY ARE LIVING HERE. And they are all using the river. They have their own drift boats, their own rafts, their own kayaks, their own canoes, their own pontoons, their own rubber duckies. And they are all Montana residents as soon as they can juggle the paperwork.
The Madison River isn't threatened by fishing guides. It is threatened by the Covid Carpetbagger Invasion.
Petitions requesting regulations on Madison River move forward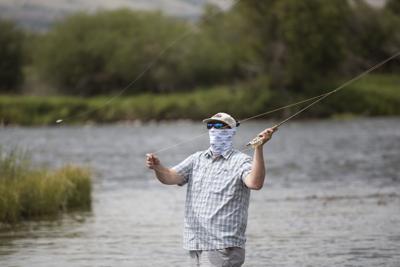 Montana officials voted Thursday to approve drafting new fishing regulations on the Madison River based on two petitions from outfitting, conservation and sporting groups.
Both petitions requested that the Montana Fish and Wildlife Commission introduce restrictions on guided and recreational fishing in the river. The petitions recommend that Montana Fish, Wildlife and Parks cap the number of commercial fishing trips at 2019 levels and establish a mandatory stamp system to track recreation.
After hours of deliberation over details, commissioners voted 4-1 to approve petitioners' requests for rulemaking at Thursday's virtual meeting.
Commissioner Pat Byorth, who introduced the motion to approve the petitions, said he wanted commissioners to recall the bigger picture — that both petitions had been refined after at least a year of discussions.
"This isn't just out of the blue," he said. "We've been working on this ad nauseam."
Byorth said the approval wouldn't set anything in stone, but would initiate a public process that would be playing out over many years.
Commissioner Richard Stuker, who voted against starting rulemaking, said he agreed that a proposal needed to go out to the public, but he wasn't sure the petitions sufficiently addressed noncommercial use of the river.
"We could totally eliminate all of the commercial usage on the river, and in one year, that would more than backfill by noncommercial use," he said.
Becky Dockter, chief legal council for Fish, Wildlife and Parks, said after a petition is approved, she must work with petitioners to write the language of the proposed rules. Since the two petitions included overlapping and conflicting subject matter, the rules she drafts could include separate options that the public could weigh in on, she said.
After Dockter drafts the rules, they must go through an administrative process with the secretary of state's office. The proposed rules can then be presented to the Fish and Wildlife Commission for a final vote.
The petition from the Fishing Outfitters Association of Montana (FOAM) recommends that FWP remove restrictions on fishing from a boat between Quake Lake and Lyons Bridge and cap the number of guided trips on the Madison at 2019 or 2020 levels.
In 2019, outfitters led approximately 13,900 trips on the river, an approximately 13% increase in the number of trips led the year prior.
The petition also recommends that FWP avoid adding "rest-rotation" schedules — which prohibit guided fishing in stretches of the river on certain days — for at least three years.
FOAM proposes granting outfitters "flex trips," or additional guided trips on the Madison that can be used when unexpected circumstances arise. Outfitters will often take clients to the Madison when other fisheries are closed.
Under FOAM's petition, outfitters would be allowed to transfer guided trips to other outfitters, though flex trips couldn't be transferred. A working group would oversee commercial use of the river.
The petition recommends that FWP require that all river users obtain a mandatory "no-cost, no-limit" stamp to enable data gathering on noncommercial use of the river.
The second petition from the George Grant chapter of Trout Unlimited, the Skyline Sportsmen Association and the Anaconda Sportsmen Association also supports capping the number of outfitter trips at 2019 levels and establishing a "no-cost, no-limit" stamp system.
However, it recommends adding a seasonal rest-rotation system and barring using a boat to access water on the river's two wade-only stretches on weekends from June 15 to Sept. 30. The two stretches are from Quake Lake to Lyons Bridge and from Ennis Fishing Access Site to Ennis Reservoir.
Boats would be allowed there Monday to Thursday.
Several people commented on the petitions, presenting the commission with a wide variety of opinions.
Mac Minard, executive director of the Montana Outfitters and Guides Association, said he didn't like either petition, and would prefer that the department release an environmental assessment for the public to comment on.
Minard said it would be disingenuous for the commission to "point the finger" at what drives the economies of Ennis and West Yellowstone.
"We need to be looking at rolling back not only guided use, but overall use as well," he said.
Joe Dilschneider, an outfitter and fly shop owner from Ennis, said he supported moving forward with the FOAM plan.
Dilschneider supports capping commercial use, but he thinks adding a rest-rotation system to stretches of the Madison is a bad idea.
Shane Colton, chair of the commission, said moving forward with the petitions was a good decision.
"We now have something tangible for the public to comment on," Colton said.