Seven Montana record-breaking fish caught in 9 months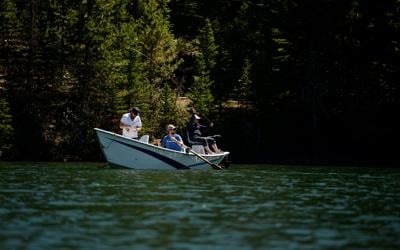 The past year has been a good one for anglers in Montana.
It all started in August when Greg Haug hauled a 32.05-pound, 38.125-inch chinook salmon out of Fort Peck Reservoir, a new state record. Then Theron Thompson pulled a record-setting 22-inch, 7.84-pound smallmouth bass out of the same water about two months later.
Roberta Legge in December landed the state's largest-recorded yellow bullhead catfish — measuring 15.5 inches and weighing 1.910 pounds — out of the Tongue River reservoir. Robbie Dockter in March reeled in a record-breaking brown trout from the Marias River, measuring 37 inch and a whopping 32.42 pounds.
The state's largest-recorded largemouth bass came in April from Lake Elmo, a 22.5-inch, 9.58-pound fish caught by Brandon Wright. And in May, Trevor Johnson hooked a 32.25-inch, 18.02-pound record-setting walleye just a week before Austin Wargo snagged the state's largest-ever longnose sucker, measuring 19.5 inches and 4.21 pounds — both caught in Holter Lake.
That's seven state-record fish yanked out of Montana waters in just nine months, a candidate for a record itself for the most record catches set within such a timeframe, according to the Montana Fish, Wildlife & Parks record table.
"We do have good, excellent fishery resources here in the state," said Greg Lemon, spokesperson for FWP. "The other part is there's more people fishing."
FWP recorded a 15% increase in fishing license sales in 2020 over the previous year, Lemon said.
"We saw when the restrictions went into place last year, we saw what the governor in Montana said at the time — he encouraged people to go outdoors. We saw license sales start to take off right away." Lemon said. "… When we saw people couldn't go to the grocery store, couldn't go to work and couldn't go to school, they went out fishing."
While Lemon said some of the record catches weren't unusual — like the chinook and smallmouth pulled from Fort Peck Reservoir — the brown trout caught in the Marias River in central Montana did come as a surprise.
The previous state record brown trout was caught in 1966, a 29-pound fish hooked by E.H. Peck Bacon in Wade Lake, according to an archived state record table.
The state's longest standing record dates back to 1916: a 37-inch, 25.6-pound bull trout caught by James Hyer.
Anyone who thinks they've caught a record-breaking fish should take a picture, have it weight on a certified scale and verified by a wildlife FWP biologist before sending a fish record form to Kim Wedde with the Fisheries Division of FWP at P.O Box 200701 in Helena, zip code 59620-0701.