"… there appears to be larger forces at work here than just fishing pressure and angling mortality — probably more flow or temperature driven…"
Well…Montana, there seems to be a problem. Your brown trout are in trouble. FWP is reluctant to say fishing pressure is the culprit. Because, well, they can't prove it. Do you think you can have bumper to bumper angler humans banging on the same wild fish population every single day, month after month, year after year…and still have healthy brown trout? Do you need to "prove it" for it to be true? Now add rising water temps, low water and summer heatwaves and you have the perfect storm. If I was a brown trout I'd be sick, too. Not to mention every third brown trout I see caught in the Madison has some kind of twisted, deformed jaw, messed up mouth, or missing eyeball. All the hordes of humans over-running our Montana rivers…you think this party is never going to end? It will, one subdivision at a time.
But don't worry. After the wild trout populations are hammered to death you will demand the rivers be stocked…with ten-inch hatchery weaklings…just like back in New York and Pennsylvania…and everybody will be happy again.
From the Butte Montana Standard today, 6/17/2021:
FWP proposing fishing restrictions to help ailing brown trout
Jun 16, 2021 Updated 18 hrs ago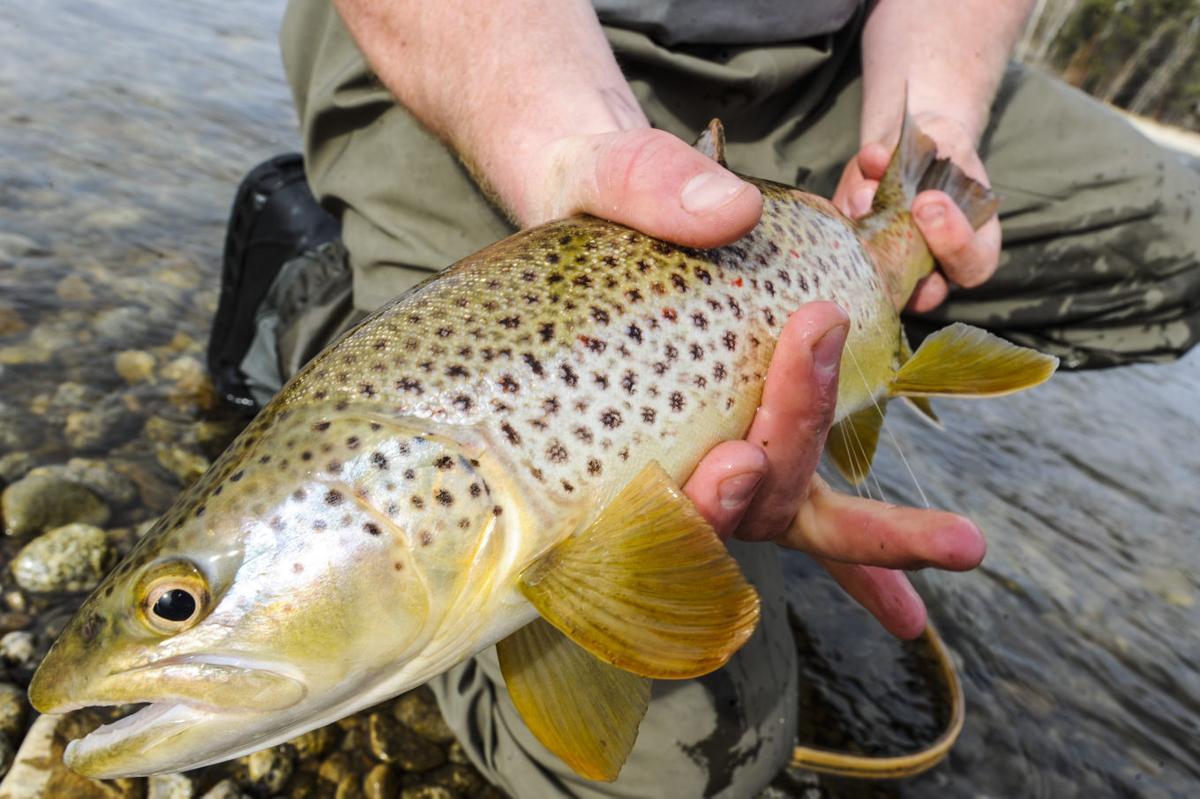 Montana Fish, Wildlife & Parks wants to hear from the public on a slate of proposals aimed at helping ailing brown trout populations in southwest Montana.
Biologists have documented steep brown trout population drops in recent years across multiple rivers. In the Big Hole River's most popular section near Melrose, numbers of brown trout dipped from 1,800 fish per mile to 400. The Ruby has dropped from 1,500 brown trout per mile to 600-700 in the upper tail waters. The 2,000 fish per mile in the Beaverhead are now down to 1,000, the Montana Standard reported, with similar stories in the Jefferson and Clark Fork rivers.
"Our (biologists) started to see this trend a couple of years ago with poor survival of small fish and a larger proportion of large fish," said Eric Roberts, FWP fish management bureau chief. "The populations were becoming top heavy because the survival was poor enough there was just nothing coming up to replace larger fish."
On Tuesday the agency launched a "scoping" period on several proposals to reduce fishing pressure on brown trout. The effort to solicit initial public feedback includes an online survey as well as public meetings in Dillon, Butte and Bozeman later this month.
The regulation changes being considered include:
Adopt seasonal fishing closures to protect spawning brown trout on some or all or sections of the Big Hole, Ruby, Boulder, Beaverhead, upper Yellowstone, Madison, Shields and upper Stillwater from Sept. 30 to the third Saturday in May.
Catch-and-release fishing only for brown trout on some or all of the same rivers or sections of rivers and tributaries.
Standing "hoot-owl" restrictions from July 1–Aug. 15 on some or all of the same rivers or sections of rivers and tributaries from 2 p.m. to midnight.
Roberts emphasized that fishing pressure itself is unlikely a driving force in the alarming trends, but unlike warming temperatures due to climate change or low flows, it's a factor FWP can more easily adjust.
"Just from what our bios and folks on the ground are saying, there appears to be larger forces at work here than just fishing pressure and angling mortality — probably more flow or temperature drive, those sorts of factors," he said. "As we're chasing down more details, in the short term people fishing are seeing these declines as well and we're hearing from folks that want to do something. We're limited in tools but fishing regs are tools we can adjust."
Biologists have not seen similar trends with rainbow trout or other species, Roberts said, and biologists are convening to drill deeper into the data.
Montana Trout Unlimited Executive Director David Brooks said the organization will dive into the proposals in more detail as the public meetings commence.
"In the short term they do appear to be exploring all reasonable tools to regulate fishing pressure with all the alternatives in the toolbox," he said. "As an organization we'll closely review the options and likely support proposals helping out brown trout so long as they aren't jeopardizing wild and native fish and we'll continue to encourage scientific management of these stream stretches."
Brooks said he was glad to seeing FWP acknowledging long-term impacts and solutions for trout, including working on stream flows, temperatures and good habitat, adding that those projects "don't happen overnight." The organization likely would not support a proposal that takes a blanket approach to entire watersheds, believing anything ultimately adopted should focus on critical areas.
With Montana facing drought this year, the proposals are a good reminder for what anglers are likely facing in terms of low flows and hoot owl closures this summer, Brooks added.
Mike Bias, executive director of Fishing Outfitters Association of Montana, said he was reviewing the survey Tuesday but his organization had not yet met to discuss the proposals.
FWP does not expect to implement any of the proposals across all waterbodies. Roberts is hopeful the public comments will help fish managers zero in on stretches of the heavily fished rivers. The agency is also considering that as restrictions go in on one or a collection of waterbodies, that is likely to increase angling pressure elsewhere.
After taking comment through July 11, FWP expects to take a proposal to the Montana Fish and Wildlife Commission to consider in August. If the commission adopts a draft proposal, that will then go back out for public comment and come back for final consideration.
Roberts says it already has tools in place with authority to limit angling this summer should water temperatures spike and flows dip.
Tom Kuglin is the deputy editor for the Lee Newspapers State Bureau. His coverage focuses on outdoors, recreation and natural resources.
FWP seeks comment
FWP has several options for the public to weigh in on brown trout proposals.
Anglers may take a survey at surveymonkey.com/r/browntroutscoping
In addition, FWP will conduct three public meetings:
June 22 in Dillon at the DNRC Building at 6:30 p.m.
June 23 in Butte at the FWP Area Office at 6:30 p.m.
June 24 in Bozeman at Region 3 Headquarters at 6:30 p.m.
Public comment can also be sent to FWPFishComments@mt.gov or, FWP Fish Comments, P.O. Box 200701, Helena, MT 59620-0701.