In the middle of the muddle and the fuddle that has become the futile and often laughable attempts at "regulating" the Madison River, up steps Dave Kumlien with a fresh approach. Dave's resume speaks for itself…he has been in on a large chunk of river history…the early days of Dick Vincent's landmark Madison River wild trout conversion, Madison/Gallatin Trout Unlimited, The Whirling Disease Foundation, National Coordinator for the TU Veterans Service Partnership and a whole lot more. Read and think. Dave just might have something different here. Common sense.
Work group considers proposal to start ambassador program along the Madison River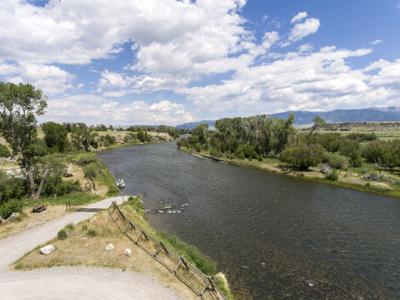 Plans to start an ambassador program along the Madison River are in their early stages.
Members of the Madison River Work Group spent much of their meeting Tuesday evening mulling an ambassador program idea proposed by longtime Montana outfitter Dave Kumlien.
Ambassadors hired for the program would be stationed at select fishing access sites along the Madison — one of Montana's most fished rivers — to share best practices, help visitors launch boats and provide an overall presence.
Improving infrastructure and staging ambassadors at those sites would reinforce etiquette and increase angler satisfaction, Kumlien said. He referenced surveys that suggest that traffic, congestion and poor behavior at fishing access sites account for about 70% of the dissatisfaction logged by site users.
Kumlien suggested that department staff model the new ambassador program after a successful program in Missoula, which pulls together nonprofits, staff from Montana Fish, Wildlife and Parks, Missoula city and county governments and the University of Montana.
Based on Missoula's model along the Clark Fork River, staff from FWP would educate and certify ambassadors, then nonprofit partners would carry out the work of the program. Kumlien said the Madison River Foundation has shown interest in an ambassador project.
The Madison River Work Group agreed to begin the process of recommending a pilot program to the Montana Fish and Wildlife Commission, though some members were more interested in cooperating internally to get a non-governmental organization to run the program.
Allowing a local nonprofit to run the pilot program ensures it won't get bogged down by political or financial barriers, some members argued.
Kumlien said finding funding to hire ambassadors is a reachable goal. There is potential for city and county governments, Montana State University and an area chamber of commerce to get involved, he said.
"This is, in my opinion, a no-brainer. It has been a no-brainer for two-and-a-half years," said Mac Minard, executive director of the Montana Outfitters and Guides Association and a member of the work group member. "If we as an organization, as a group, can come together on this thing and actually put a shoulder to this if that's what it takes …. I think we've chomped off an easy win."
In a briefing document, the association proposed staging a dedicated ambassador at the Lyons Bridge Fishing Access Site and two mobile ambassadors at the Varney and Ennis fishing access sites at the program's onset.
Eileen Ryce, fisheries division administrator for FWP, said staff did request funding to get a pilot ambassador program going, but the request never got approved. The department can't run the program with existing staff, she said.
"Having someone out there with an FWP shirt on doesn't necessarily elicit rainbows and sunshine," she said. "Sometimes us being the ones with the badge on doesn't help, so I think it's a great idea."
KC Walsh, the Montana Fish and Wildlife commissioner who chairs the work group, encouraged members to narrow the scope of the program to "make sure it's a home run." He told members to put together a budget and plan, then report the idea to the commission and make an official recommendation.
The best course of action, Kumlien said, is to go the collaborative route and avoid making the program FWP-run or funded.
"I think for my money, this is an absolute, immediate first step," Minard said. "Get it done this summer and let us champion the thing."