Bad situation. I am headed up river this morning and will give updates ASAP. Divers have arrived in Ennis and will be working today. My guess is if they can get flows restored within 24 hours we might dodge a bullet. After that, all bets are off. Trout will die but the main issue is the brown trout spawn. Eggs have been laid and are in incubation…hundreds of thousands if not millions. We do know this upper section of the river is a major brown trout spawning area for the Madison. The Hebgen gauge reads 248cfs as of this morning. A volunteer crew is meeting at Kelly Galloup's Slide Inn and Madison Foods at 8:30AM to help FWP rescue and relocate trout.
FWP closes upper Madison River after Hebgen Dam malfunction causes flows to drop dramatically overnight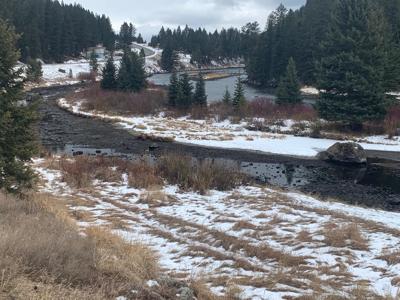 A malfunction at Hebgen Dam caused flows in the upper Madison River to drop suddenly and dramatically in the wee hours of Tuesday morning, leaving parts of the river dry and prompting state officials to order a full fishing closure for the upper river.
Montana Fish, Wildlife and Parks announced the closure between Ennis Lake and Hebgen Dam around 6 p.m. Tuesday, saying it would remain in place until the issue at the dam is resolved and flows are fully restored. NorthWestern Energy, which controls the dam, is working to fix it.
The release said the impacts to the fishery are still unclear, and that staff and volunteers would be on the river Wednesday to move stranded fish back into the main river channel.
Data from a U.S. Geological Survey gauge below Hebgen Dam indicated that at some point between 1 a.m. and 2 a.m. on Tuesday, flows below the reservoir dropped significantly. Flows at the gauge below the dam hovered at around 650 cubic feet per second just before the unexpected dip, according to USGS. After the dip, it settled at just under 200 cubic feet per second.
That resulted in water not flowing in some parts of the Madison, a world-renowned fishing destination. Spawning beds were getting exposed and fish were stranded on riffles or getting trapped in side channels and pools.
NorthWestern Energy said in a Facebook post just before 6 p.m. that the flow dropped because of an "unplanned event" earlier today. The company said staff are slowly increasing outflows from the dam but that "river flows may not be fully restored for several days."
"The public's safety and the health of the fishery are our priority," the post said.
Morgan Jacobsen, a spokesperson for FWP, said that the department is closely monitoring the situation. Staff members are working on assessing the impacts of the sudden drop in flows on the fishery, he said. The department did not have an estimate on the number of fish killed.
Jon Malovich, executive director of the Madison River Foundation, said he first learned about the drop in flows at about 10 a.m. Tuesday. He said the stretch of river between Hebgen Lake and Earthquake Lake was impacted most, but people saw lower flows all the way down to the area around Three Dollar Bridge.
Volunteers rushed out to net fish and move them into deeper channels. FWP is urging people to be careful around spawning redds, but said that it's safe for people to try to save fish and that cold temperatures are likely to have a greater impact on the redds than foot traffic.
In a Facebook post, staff at Kelly Galloup's Slide Inn, a fly shop just downstream of Earthquake Lake, wrote that they'd likely take Wednesday off to walk the banks of the river and capture any trapped fish they find, and they encouraged others to do the same. The post also urged people to "please be careful to watch your step around and behind spawning redds or any cleared gravel you might encounter."
"We wish we had better news, but we will do the best we can to help our fishery until we get more water coming through the gates," the post said.
Joe Moore, co-owner of the West Yellowstone fly shop Big Sky Anglers, said that there is prime spawning habitat around Ennis, and NorthWestern Energy is working against the clock to prevent low flows from damaging that portion of the river.
"I'm just distraught for the fishery," he said.
More news from KBZK: Crews work to restore Madison River levels after drop (kbzk.com)