From the Butte, Montana Standard.
EDITOR'S PICK TOPICAL ALERT TOP STORY
Western Montana ice fishing report for the week of Jan. 23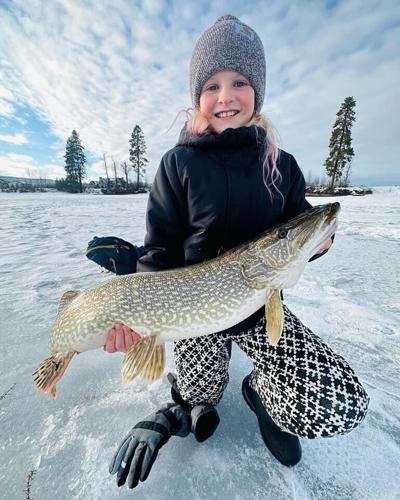 From Montana FWP: Ice fishing is a great way (and we would argue, the best way) to get outside and spend the day in the winter. But remember, no ice is 100% safe, and no fish, no matter how big, is worth your life. Take if from FWP's Stacy Schmidt – crayfish hunter by night, ice safety technician by day – and her team at Lewis and Clark Search and Rescue.
Top picks
Ashley Lake – The kokanee bite has been great in 60-80 feet of water, with limits being reported by several people. Fish are averaging about 12-14 inches and being taken during the morning on Hali jigs and Swedish Pimples tipped with maggots. 6-8 inches of ice has been reported. – Ray Ward, Kalispell
Canyon Ferry Reservoir – A few rainbows are being caught 15-22 feet deep around Duck Creek on pink, brown or black jigs with worms or maggots. Walleye and perch are being caught mid reservoir between Hole in the Wall to Confederate and Duck Creek in 35-45 feet of water while using red, black or orange Hali jigs or spoons tipped with maggots, worms or perch eyes. A few burbot are being caught around Duck Creek by anglers fishing for perch and walleye. Stay away from the pressure ridges on the south end of the reservoir. There are 18-20 inches of ice from the Silos down to the ponds, 10-15 inches of ice around Duck Creek and the north end has 3-5 inches of ice. – FWP, Helena
Around western Montana
Beaver Lake – Ice is about 12-14 inches thick and folks are picking up some nice whitefish. – Chancey and Dave's Fish Camp, Evergreen
Clark Canyon Reservoir – Fishing has been steady in the early morning hours for trout in depths from 7-12 feet on the south and west ends of the lake, respectively. Have a few different baits in your arsenal. Eggs, maggots, nightcrawlers and dyed corn on a small tungsten jig are all on the menu. The bite seems to taper off considerably during the early afternoon, so be sure to get out early. Try to find a sharp drop-off; usually that indicates you've found one of the river or spring channels. Ling are being picked up sporadically in depths ranging from 10-25 feet. Try sucker meat or nightcrawlers after the sun goes down. – Frontier Anglers, Dillon
Flathead Lake – A few pike have been caught out of Somers Bay recently. You'll want to fish a whole smelt in 20 feet of water or less for those slimy predators. Sometimes a hot dog does the trick. – Ray Ward, Kalispell
Hauser Reservoir – Rainbow trout action has been pretty consistent in the Causeway area while using various colored jigs tipped with maggots or crawlers 6-10 feet below the ice and also while using streamer flies in open water. Some larger perch are being found in Lake Helena and near the power lines in the Causeway Arm while jigging dead minnows or rattling jigs near the bottom. 12-14 inches of ice has been reported. – FWP, Helena
Holter Reservoir – A few rainbows and burbot are being picked up at the Gates of the Mountains while using various jigs with crawlers or ice flies in 8-10 feet of water. Perch fishing has been excellent with good numbers being found out from Log Gulch, Departure Point, the Prairie Dog Town and the BLM boat ramp while using multi-colored Hali or similar jigs and maggots near the bottom in 30-50 feet of water. 8-10 inches of ice has been reported. – FWP, Helena
Helena Valley Regulating Reservoir – Kokanee and perch fishing has slowed down recently, but some are still being found while using Hali or Sweedish Pimple type ice jigs tipped with red maggots or corn near the bottom in 25-35 feet of water. 12-14 inches of ice has been reported. – FWP, Helena
Georgetown Lake – Anglers are having success catching kokanee and trout during the mornings using jigs tipped with white maggots in about 30-45 feet of water. There's currently about 18 inches of ice on Georgetown. – Duane's IceFishing Rentals, Anaconda
Lake Mary Ronan – The kokanee have been hit or miss, but the perch bite has really picked up. 35-40 feet of water has been the go-to depth for successful anglers. If the fish shy away from Halis, switch to something smaller like a tungsten jig or a small spoon. A few rainbow trout have also made an appearance. – Chancey and Dave's Fish Camp, Evergreen
Little Bitterroot Lake – About 5-6 inches of ice can be found on the south end. Kokanee are biting in 60-80 feet of water. Limits have been reported every now and again, but nothing consistent. Hali jigs and Swedish Pimples tipped with maggots will be the ticket. – Chancey and Dave's Fish Camp, Evergreen
Silver Lake – Folks are getting some kokanee bites during the morning hours on white maggots. The ice is about 16-inches thick. Concentrate on the 30-45 foot range below the ice. – Duane's IceFishing Rentals, Anaconda
Swan Lake – There's about 6 inches of ice on the east side of the lake adjacent to the highway. Some lake trout have been on the chew. There hasn't been much word on the kokanee. The south end can also been good for Macks, pike and perch. If you can find a safe access point, the north end is also good for lakers and rainbow trout. – Chancey and Dave's Fish Camp, Evergreen
Whitefish Lake – Head to State Park for an evening or nighttime bite. Whitefish have been the popular species with most bites coming in about 50 feet of water. Some solid counts of lake trout can be had in 60-80 feet of water. – Chancey and Dave's Fish Camp, Evergreen
Matthew Kiewiet is the managing editor for the Independent Record and The Montana Standard.
If you go …
Conditions and ice thickness can change. Due to deadline constraints, these are not up-to-the-minute reports.
Check with a local tackle shop or trusted source while planning a trip.