Western Montana ice fishing report for the week of Feb. 13
story from Butte Montana Standard.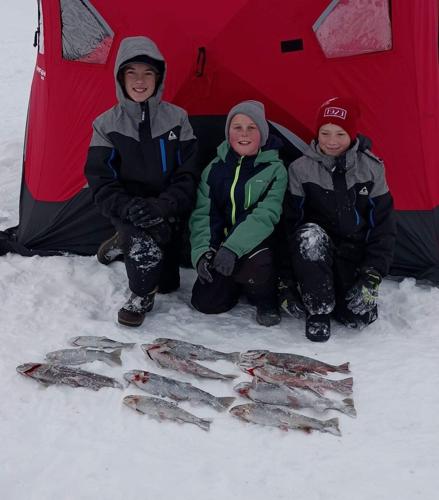 From Montana FWP: Ice fishing is a great way (and we would argue, the best way) to get outside and spend the day in the winter. But remember, no ice is 100% safe, and no fish, no matter how big, is worth your life. Take if from FWP's Stacy Schmidt – crayfish hunter by night, ice safety technician by day – and her team at Lewis and Clark Search and Rescue.
Top picks
Bitterroot Lake – The kokanee bite has been on, with limits reported most mornings within a couple hours. A majority of those fish are being taken in about 100 feet of water, and the bites have come about 30-40 feet below the ice. Most of the fish are in the 10-12 inch range. – Chancey and Dave's Fish Camp, Evergreen
Swan Lake – Lake trout are still being caught on the side of the lake adjacent to the highway in about 60-80 feet of water. Anglers can also pick up a few kokanee in those areas as well. Perch and pike have been making a showing near the south end of the lake. Rainbow trout can also be picked up near the shorelines in shallower water. – Chancey and Dave's Fish Camp, Evergreen
Around western Montana
Ashley Lake – Kokanee are still biting. There haven't been as many limits reported as in previous weeks, but there is still good fishing to be had. Bigger perch and cutbows have also been on the chew. – Chancey and Dave's Fish Camp, Evergreen
Canyon Ferry – Rainbows are being caught 10-15 feet deep out from the Silos and around Duck Creek while using pink marshmallows, spawn sacks, or pink or red jigs with worms or maggots. Walleye and perch are being caught out from Duck Creek in 35-45 feet of water while using green and silver or white and silver jigs tipped with night crawlers or maggots. Stay away from the pressure ridges on the south end of the reservoir. There is over 20 inches of ice from the Silos down to the ponds, 18-20 inches of ice around Duck Creek and the north end has 3-5 inches of ice, but it is pulling away from shore around Shannon. – FWP, Helena
https://omny.fm/shows/hot-off-the-wire/playlists/podcast/embed?style=cover&image=1&share=1&download=0&description=1&follow=1&playlistimages=1&playlistshare=1Listen now and subscribe: Apple Podcasts | Google Podcasts | Spotify | RSS Feed | Omny Studio
Church Slough – Pike fishing has been fairly quiet. A few anglers have had luck early in the mornings, but overall things have been on the slower side. – Chancey and Dave's Fish Camp, Evergreen
Georgetown Lake – There is some great trout fishing to be had at Georgetown. The lake has 20-plus inches of ice and about 10 inches of snow cover. Each day can vary, but mornings have been the best time to get a line in the water. – Duane's IceFishing Rentals, Anaconda
Echo Lake, Bigfork – The whitefish bite has been very good around the main lake points. Your target depth will depend on the day, but 25-30 feet is usually a good place to start. A few kokanee, bass and pike can also be caught here and there. – Ray Ward, Kalispell
Hauser Reservoir – Some nice rainbows continue to be caught at the Causeway Bridge area and Black Sandy while using various colored jigs or ice flies tipped with crawlers 6-10 feet below the ice. A few perch are being found out on Lake Helena while using green or white Hali jigs with maggots or crawlers. An occasional burbot can be found from the Causeway Arm to Black Sandy while using cut bait near the bottom. 12-18 inches of ice has been reported. – FWP, Helena
Holter Reservoir – A few rainbows continue to be picked up at the Gates of the Mountains while using various ice jigs tipped with crawlers in shallow water. A few burbot are being caught while using cut bait near the bottom at night. The perch bite continues to be great. An occasional walleye can be found out from Log Gulch, Departure Point, the Prairie Dog Town, and the BLM boat ramp while using multi-colored Hali or glow jigs and maggots near the bottom in 25-45 feet of water. 10-12 inches of ice has been reported. – FWP, Helena
Helena Valley Regulating Reservoir – A few kokanee and perch are being picked up while using Hali or Sweedish Pimple type ice jigs tipped with red maggots or corn in 16-35 feet of water. 14-18 inches of ice has been reported. – FWP, Helena
Lake Mary Ronan – Perch fishing has been great. Try fishing in around 20 feet of water and beware of slushy spots around the lake. – Ray Ward, Kalispell
Whitefish Lake – There is plenty of ice and good reports of whitefish and a few lake trout being caught near the City Beach area. Lake trout are also biting toward the north end near Swift Creek as well as near the main lake points. – Chancey and Dave's Fish Camp, Evergreen
Matthew Kiewiet is the managing editor for the Independent Record and The Montana Standard.
If you go …
Conditions and ice thickness can change. Due to deadline constraints, these are not up-to-the-minute reports.
Check with a local tackle shop or trusted source while planning a trip.