Big Sky, green water…more condos, townhouses, mega-mansions…more, more, more. Using the Gallatin River for your own, personal sewer? When does it end? When the Gallatin goes green and the trout go belly-up? Wake up Montana. Your rivers are being assaulted. RB
Bozeman Daily Chronicle 4/14/2023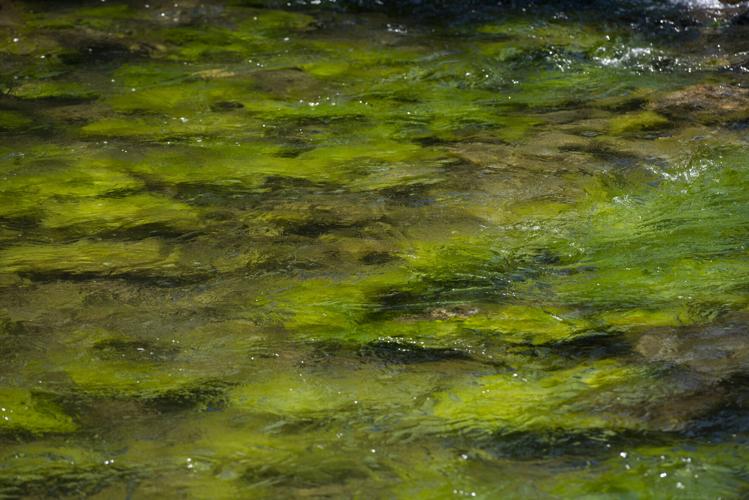 An algae bloom grows in the Gallatin River on Wednesday, Aug. 17, 2022, near Deer Creek.
State officials have proposed to list 40 to 50 miles of the main stem of the Gallatin River, from the border of Yellowstone National Park to the confluence of Spanish Creek, as impaired due to excessive algal growth.
The Montana Department of Environmental Quality wrote in a news release on Thursday that it officially submitted a proposal to the U.S. Environmental Protection Agency seeking to list the middle segment of the river as impaired, based on years of scientific data and visual evidence.
"Excess algae is impacting recreation and aquatic life on this portion of the river," said Lindsey Krywaruchka, DEQ Water Quality Division administrator. "A science-based plan will help provide a roadmap to improve water quality and protect the river for future generations."
Before there can be an official impairment designation, the EPA first has to approve the state agency's proposal. If that occurs, the listing will appear as an addendum to the 2020 Integrated Report, which identifies impaired bodies of water in Montana.
Assuming the EPA approves the proposal, the state agency will devote significant monitoring resources to further study the Gallatin River over the next three years. They'll also work to identify thresholds for controllable pollutants that they find are impacting algal growth.
That data will inform the creation of a "total maximum daily load," or TMDL, planning tool, which quantifies how much of a pollutant a body of water can sustain before its water quality is degraded. DEQ can then develop a Watershed Restoration Plan, in collaboration with local groups.
DEQ staff wrote in an email that the TMDLs provide a path toward improving water quality. They allocate reductions to significant "point" and "nonpoint" sources of pollution within a water body, which allows landowners and local groups to work toward reducing pollutant loading.
While "point" sources of pollution are identifiable, discrete and generally regulated, "nonpoint" sources of pollution come from a variety of sources within the environment, and they are harder to identify, staff explained. Examples include road runoff and fertilizer.
The planning process can take five to six years to complete, so DEQ is encouraging people and developers to act now to protect the river's surface water. A public meeting about the impairment listing is scheduled for May 1 at 6 p.m.
The hybrid meeting will be hosted at the Big Sky County Water and Sewer District, but people can connect to it both online and via phone. Information on the public meeting can be found online.
DEQ moved to list the river's main stem as water quality impaired after multiple conservation groups — the Gallatin River Task Force, Upper Missouri Waterkeeper, Montana Trout Unlimited, the Greater Yellowstone Coalition and American Rivers — filed a formal petition with the state last spring.
They claimed that recurrent, nuisance level algal blooms had been degrading beneficial uses of the river, constituting "overwhelming evidence of impairment," under the state's definition. Months later, at the height of summer, a bloom cropped up on the river for the fifth year in a row.
While many factors can trigger the growth of nuisance algae in rivers and streams, including low stream flows and exposure to sunlight, nutrient loading — an unnatural accumulation of nitrogen and phosphorus — is what primes waterways for blooms.
Marne Hayes, speaking on behalf of the Gallatin River Task Force, said the group has been anticipating DEQ's announcement, and they've worked closely with the department to monitor water quality and water quantity in the river for many years.
While an impairment designation might sound detrimental on its face, the "impaired" label is a good thing because it allows for mitigation and it allows agencies and their partners to put a restoration plan into place, Hayes said.
She emphasized that TMDLs are science-based, and they are a way of "further qualifying and quantifying pollution in the river so we can restore the river's health. … The task force's water monitoring is a big part of the process that led to this recent listing."
Hayes pointed out efforts to reduce nutrient pollution in the river are ongoing. It's why the Big Sky Water and Sewer District is spending millions of dollars on improving its wastewater treatment facility, and it's why a new water and sewer district was created in Gallatin Canyon.
"Putting a TMDL in place is not going to change everything overnight, but it's playing the long game of reducing nutrients to address algae blooms," she said. "We would always encourage people to be mindful of what goes into the river on a personal and residential scale."
Guy Alsentzer, executive director of Upper Missouri Waterkeeper, said DEQ's proposal to list the Gallatin River main stem as impaired is significant, since we've been seeing massive algal blooms, stretching for at least a dozen miles, every single summer for the past five years.
"That's a cause for concern because first and foremost, this is the Gallatin River. This is 'A River Runs Through It.' This is 50 miles downstream from Yellowstone National Park," he said. "It's about the natural aquatic life in a world-class, blue ribbon trout fishery."
Nutrient pollution, particularly human-caused nutrient loading from wastewater systems, is a primary culprit, and it's "good news that DEQ is acting on the breadth of significant, documented science showing that river health is going downhill," Alsentzer said.
A locally driven effort to look at new development patterns is necessary, he said. And that means new subdivisions should be using the best available wastewater treatment technology, or they should be hooked up to centralized facilities.
"The reason we've supported this process is that it's a science-based process with a regulatory backstop," Alsentzer said. "It's not going to be based on hyperbole. It's not going to be based on people's opinions. It's going to be based on science, and it's enforceable at law."