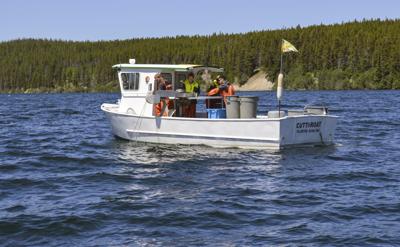 Every summer, six days a week, crews roam Yellowstone Lake in boats, setting nets and pulling them in.
They target nonnative lake trout, which decimated the lake's native cutthroat population, and they're good at it — in the past 28 years, they've removed more than 4.3 million lake trout.
It's a big, expensive effort — $3 million a year, mostly paid for with private donations. And, according to Christopher Guy, professor at Montana State University and assistant leader of the Montana Cooperative Fishery Research Unit, it's working.
"The cutthroat trout population in Yellowstone Lake is in a really good spot," Guy said.
Guy spoke Wednesday evening at the Museum of the Rockies as part of a science lecture series put on by Gallatin Valley Friends of the Sciences. Guy's lecture was the last of the group's winter/spring series.
Guy has worked with Yellowstone National Park and other partners on cutthroat conservation over the past two decades, focusing primarily on the issues in Yellowstone Lake.
His talk Wednesday covered a broad swath of cutthroat trout history, reaching back to the species' arrival in Yellowstone Lake some 14,000 years ago. They evolved over time, living as the only trout species in the lake and the dominant fish there.
Guy said they are a "keystone species," meaning the ecosystem revolves around them in certain ways. The trout eat underwater organisms, like zooplankton and anthropods, and migrate into streams to spawn. There, land animals like grizzly bears and osprey eat them.
"They really link the aquatic food web to the terrestrial food web," Guy said.
That link broke when lake trout turned up in Yellowstone Lake. The species was first discovered there in 1994, but Guy said it's likely they'd been there since the early 1980s or even the late 1970s.
Hypotheses on how they got there abound — maybe naturally, maybe a wannabe fish stocker with a bucket, maybe helicopter water drops during the 1988 fires. Regardless, their presence is problematic. Lake trout eat young fish, meaning the cutthroat were vulnerable.
Park officials responded quickly. A scientific panel met the next year and recommended killing lake trout to help the cutthroat.
Enter the gillnets. The nets look like a chain link fence made of fishing line, and they're stretched out underwater in parts of the lake where crews know lake trout hang out. When fish try to swim through them, they're caught by the gills. The crews pull the nets in and discard dead fish carcasses in the deepest parts of the lake.
The program started with one National Park Service gillnetting boat in 1995. One boat wasn't enough, however, and the cutthroat decline officials feared happened. Todd Koel, Yellowstone's top fish biologist, said at a virtual meeting Thursday that the number of cutthroat migrating into spawning streams from the lake declined by as much as 90% in the late 1990s and early 2000s.
The decline had impacts beyond the aquatic environment. Fewer fish moving into streams meant less food for bears and osprey. Guy said Wednesday there are no more nesting osprey pairs at Yellowstone Lake.
The park hired Guy and a student of his to analyze their population data in 2007. They confirmed lake trout numbers were still increasing. To reverse that trend, they had a simple recommendation: more gillnetting.
The National Park Service began hiring contract crews in 2009 to to work the lake, putting more boats on the water. Now, each summer, they stretch thousands and thousands of meters of gillnets in the lake. In one recent year, the crews set 9.7 million meters of nets, Guy said.
"That can take you from Yellowstone Lake to Italy," he said.
Ramping up the efforts worked. The population has dropped by 86% since 2011, according to the park's website.
It has changed the composition of the lake trout population, too. Older lake trout— the ones most likely to feed on cutthroat — are declining in abundance. Younger fish are still around, and there are more of them than officials would like, but Guy said the drop in the adult population is still a win.
"The good news is we have the lake trout that are feeding on Yellowstone cutthroat trout at an abundance lower than when we first started," he said.
Cutthroat are rebounding, too. Guy said the numbers are now within a range officials specified years ago, and the fish look good.
"We have bigger, very healthy looking cutthroat trout," he said.
The work isn't over. Scientists have been looking for ways to target the younger fish, including by suffocating lake trout eggs with specialized pellets dropped from a helicopter. But even if that becomes a regular part of the program, there's no real way to get rid of all the lake trout.
"We're always going to have lake trout unless we find a silver bullet," Guy said.
He added that there may come a time when there's an acceptable harmony between the two populations, where both are at a level officials can tolerate. That could allow them to reduce the number of nets set each year.
But there would still need to be work done to maintain that balance.
"You have to think of lake trout suppression like maintaining the roads," he said.