So the New York Times has ditched its' sports department. Over, adios, kaput. You want to read sports? Click on The Athletic (behind the paywall). But don't bother leafing through The Times. You won't even find the Yankees' scores there.
Who cares? Why is this showing up in a fly fishing blog? Actually, I'm not sure. But something is fishy.
Years ago, when Fly Fisherman magazine was a thing, they called fly fishing "The Quiet Sport". Not anymore. Nowadays it is boomboxes on the stream blasting Ed Sheeran, Taylor Swift or Bad Bunny… dragging Day-Glo bobbers down the middle of the river…yelling, screaming, shrieking and high-fiveing over some poor, helpless six- inch brown trout snagged in the anal fin. "Yes, Yes, Yesssssss"…the screams could be heard all the way from The Swallow Cliffs to Ruby Ck. as another Madison River trout found its way thrasing into the landing net.
The Quiet Sport is anything but.
Nothing stays the same. Seasons come and seasons go. Newspapers are dead. Flyfishing is now an endzone sport.
What a long, strange trip it has been.
Amid broadcast rights boom, why does sports journalism keep suffering?
"It seems like [the newspaper industry] has already died."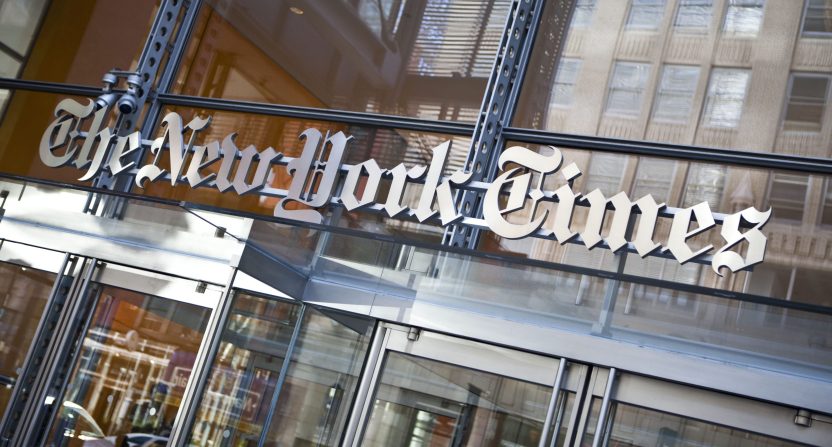 NEW YORK – APRIL 21: The New York Times logo is seen on the headquarters building on April 21, 2011 in New York City. The New York Times profits fell 58 percent in the first quarter of 2011. (Photo by Ramin Talaie/Getty Images)
THE ATHLETICBy Jesse Pantuosco on 07/12/2023
Monday marked another watershed moment in the ongoing collapse of journalism with the New York Times—once considered the industry's gold standard—taking the drastic step of dismantling its sports department. As a result, the Times will fold its sports arm into The Athletic, the latter still licking its wounds from last month's layoffs.
It's adding up fast, isn't it? Between ESPN's decline (last month's teardown counted Max Kellerman, Neil Everett, Jeff Van Gundy, Jalen Rose, Suzy Kolber and Todd McShay among its many casualties) and NYT's diminished footprint, legacy media has never been on shakier ground, bracing for its own inevitable armageddon. It's equal parts scary and heartbreaking, a grim reminder of what technology has cost us, doing its best to make an entire industry obsolete.
For those who revere the written word, journalism's waning relevance may be a hard pill to swallow, but it's not like we didn't see it coming. For years it's been under siege, replaced by content alternatives that have whittled our attention spans down to nothing, sapping us of the bandwidth required to consume 1,000-word think pieces (made even less accessible by paywalls and auto-play ads taking up half our screen). Of the remaining newspapers still in circulation, many have vacated their physical offices, cutting costs by outsourcing stories from wire services like AP and Reuters.
What's left is a hollow shell of what once constituted the Fourth Estate, a field reserved for society's truth-seekers, demanding accountability from Wall Street, big pharma and political extremists promoting bigotry and hate, among other corrupt influences. Neutered by corporate greed, journalism's day of reckoning is here, helpless to stop the bleeding amid its agonizing descent into empty-calories clickbait and other glorified propaganda masquerading as "news."
Capitalist meddling hasn't helped any, treating promising startups like ATMs while ignoring their inherent value as needed watchdogs exposing corruption and injustice. Consider G/O Media's doomed acquisition of Deadspin, butchering a beloved sports and pop culture blog in record time. Or Maven (later rebranded as The Arena Group) picking at Sports Illustrated's carcass, running a treasured institution into the ground as casually as a fantasy football manager scouring the waiver wire for a bye-week tight end.
It's hard to pinpoint where and how exactly this sea change came about, though once billionaire VCs got it in their head that sports media was ripe for the picking, there was no turning back. In the blink of an eye, journalism went from a societal staple to an impulse buy, a luxury as inconsequential and impractical as the cowboy boots gathering dust in a forgotten corner of your bedroom closet.
"Journalism is supposed to be kind of a civic institution," argued ESPN alum Pablo Torre, citing a hazing scandal brought to light by Northwestern's student newspaper, prompting the school to fire head football coach Pat Fitzgerald. "And so the idea that it's not justified by the habits of people, it makes me lament the vulnerability that we have imposed onto these institutions which are profit-driven instead of being guarded and defended."
Art never stood a chance against commerce, a fight akin to Tyson Fury boxing Kevin Hart for the heavyweight crown. Downsizing comes with the territory, an unfortunate reality of doing business in the digital age. Think of all the self-checkout lines at your local grocery store, or when you call customer service and speak to a computer. Those used to be jobs. With A.I. looming, human beings have never been more expendable, living in constant fear of being replaced.
Try as we might to resist it, change is coming and faster than any of us could have imagined. Not only are we powerless to stop it but, in a sense, we CHOSE this, deciding collectively as a culture that traditional media would be left behind, a relic of a time before Instagram and TikTok's death grip suffocated us, leaving an entire generation hopelessly addicted to their devices.
Columnist-turned-podcaster Dan Le Batard, whose career is a microcosm of how much our viewing habits have evolved, recently opined that young people aren't anywhere near as interested in sports as they once were. That's one theory, though it doesn't explain the recent explosion in broadcast rights, with Disney, Amazon, Warner Brothers Discovery and Paramount all jockeying for position in an arms race for live programming.
Between Amazon's recent acquisition of Thursday Night Football and Apple TV+ hitching its wagon to MLS just in time for Lionel Messi's arrival at Inter Miami, the content space has never been more competitive, saturated by deep-pocketed powerbrokers desperate to add to their portfolio. If NBC is blowing its wad on Syracuse/Purdue (one of four announced Big Ten games on Peacock this upcoming season), imagine what the NBA will go for when its broadcast rights expire in two years.
It's a fascinating paradox—and one that largely defies logic—seeing sports thrive as a streaming entity while the rest of the industry bleeds out, useless as wet logs on a dwindling campfire. Credit decision-makers for following the money, recognizing sports as one of the few genres left that viewers prefer to watch live. With so much invested in its game broadcasts, ESPN, for better or worse, can afford to cut corners, filling in the gaps with shows that, as articulated by Le Batard, exist as de facto infomercials, low-budget fare intended as filler between live events.
Like all businesses, journalism needs resources to thrive. But as soon as they identified a profit center, media outlets wasted no time in siphoning their newsrooms, slowly phasing out beat writers for "insiders" tweeting their news in concise, 280-character blurbs.
Maybe it's more streamlined and efficient, but sports stripped down to its bare essentials is a lot less fun, presenting games not as shared human experiences but as vehicles for ads, paint-by-numbers entertainment keeping the lights on in Bristol and elsewhere.
Storytelling isn't dead but it's on the endangered species list, left vulnerable by brain-rotting apps that have conditioned us to always be on our phones, scrolling and clicking our lives away. We're all guilty—who among us hasn't been ashamed of their weekly screen usage, reminded of all the time we wasted on our Instagram explore page, forgetting what it feels like to touch grass?
"It seems like [the newspaper industry] has already died," said Miami Herald writer Greg Cote during his weekly appearance on The Dan Le Batard Show with Stugotz. "One of the problems with the erosion of democracy is that the very idea of a free press is being demeaned and no longer seen as essential."
A winner of 132 Pulitzer Prizes including three for sports writing, the New York Times, in many ways, felt like the last bastion of journalism, the one sacred cow no one could ever lay a finger on. Seeing its sports desk disappear feels ominous, a warning sign for an industry under attack. The Athletic boasts a talented enough writing staff to serve as a worthy substitute, though it's hard to feel hopeful about the state of sports writing when every day brings more carnage, reducing its voices to mere whispers.
New York TimesNew York Times Sports
About Jesse Pantuosco
Jesse Pantuosco joined Awful Announcing as a contributing writer in May 2023. He's also written for Audacy and NBC Sports. A graduate of Syracuse's S.I. Newhouse School of Public Communications with a master's degree in creative writing from Fairfield University, Pantuosco has won three Fantasy Sports Writers Association Awards. He lives in West Hartford, Connecticut and never misses a Red Sox, Celtics or Patriots game.